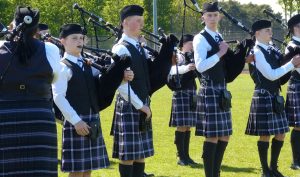 Project
Funding (£)
Description
Relaunch and Refresh of Royal High Pipe Band post covid
2,000

Royal High Pipe Band was formed in 2018 from the Davidson's Mains & District Grade 4A and Novice Juvenile Pipe Bands. The Band has 40 members and is based in North Edinburgh and is affiliated with The Royal High School. The majority of the band is made up of members under the age of 18, living in the EH4 area.

Prior to covid the band was extremely successful, and had been performing to a high level in competitions and other events.  The members regularly feedback that the band has given them confidence, discipline, many experiences and the opportunities to develop life skills that would prepare them for and influence their future life and careers.

Funding will be used to further reinvigorate and prevent the disbandment of the band.