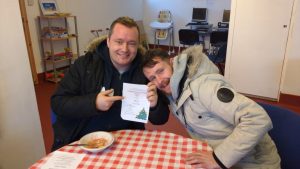 Project
Funding (£)
Description
Fidra Court Community Kitchen
1,000
Fidra Court Community Kitchen primarily benefits the residents of Fidra Court and residents of the surrounding area of Muirhouse, which is mainly populated with Council housing and where many residents are on low incomes.

The kitchen has been able to increase the opening hours with the money awarded, to three times per week.  Hot cooked meals are provided, plus hot rolls.  In addition soup and fruit salad are often on the menu.  Tea, coffee, juice and biscuits.

The number of people benefiting from the service varies from around 15 to around 30 people per day.